Have you heard of Brainly? The website, which translates as a knowledge-sharing community, has proved to be a real help to those who need that little help to solve exercises and to better understand academic subjects.
Online, this platform has helped thousands of users to study at home simply and quickly. Want to know how to enrich your knowledge base in the comfort of your home? Then find out more about Brainly in the following article.
But after all, what is Brainly?
A collaborative study platform. That is exactly how Brainly is defined. In other words, it is a place where several students can get together to ask questions and answers on all subjects, studying together and clearing up their doubts.
When the user asks a question on the platform, it can be answered by anyone, that is, it does not necessarily have to be a teacher. In this way, learning can come from anywhere, which is very cool for more difficult content and that really need help.
In this sense, you also have the possibility to answer the questions asked, as long as you have knowledge about them. Although the platform is a place created for users to share their learning, more than 2000 moderators are attentive to questions and answers.
It is also worth mentioning that the site works as a social network. So, to start using it you need to create an account, where you will have a user profile and register your preferences, as your favorite school subject. Within the network it is also possible to meet other users and send private messages, much like LinkedIn.
It's free?
In principle, Brainly has two different accounts, Basic and Plus. While the first is completely free and allows you to access most of the platform's content and resources, the second is paid and gives you access to verified responses. In fact, within the Plus plan there are two different ways of charging, namely:
Half-yearly subscription: $ 18, billed every 6 months;
Annual registration: 24 dollars, charged once a year.
As for payment methods, the platform accepts Stripe, Zuora or PayPal. And you can cancel your subscription at any time, that is, there is no loyalty.
See also: how to study through the medical content platform Jaleko at a distance and at a discount
Advantages of studying at home using Brainly
As you can see, Brainly is a website that can offer a lot of knowledge to its users. After all, precisely because it has a unique focus on solving questions and learning, it is a great platform for those who need to adapt to the new home study routine.
However, the advantages of using Brainly to study at home do not end there. The platform provides many other positive points, which can be noticed by everyone who makes use of it daily. Check some below:
Quick answers to your questions;
Different points of view for the same answer;
Responses with uncomplicated language, since they are not provided by users;
Interaction between students from different schools and different levels;
Possibility to learn about different subjects;
It can be accessed through Android or iOS phones.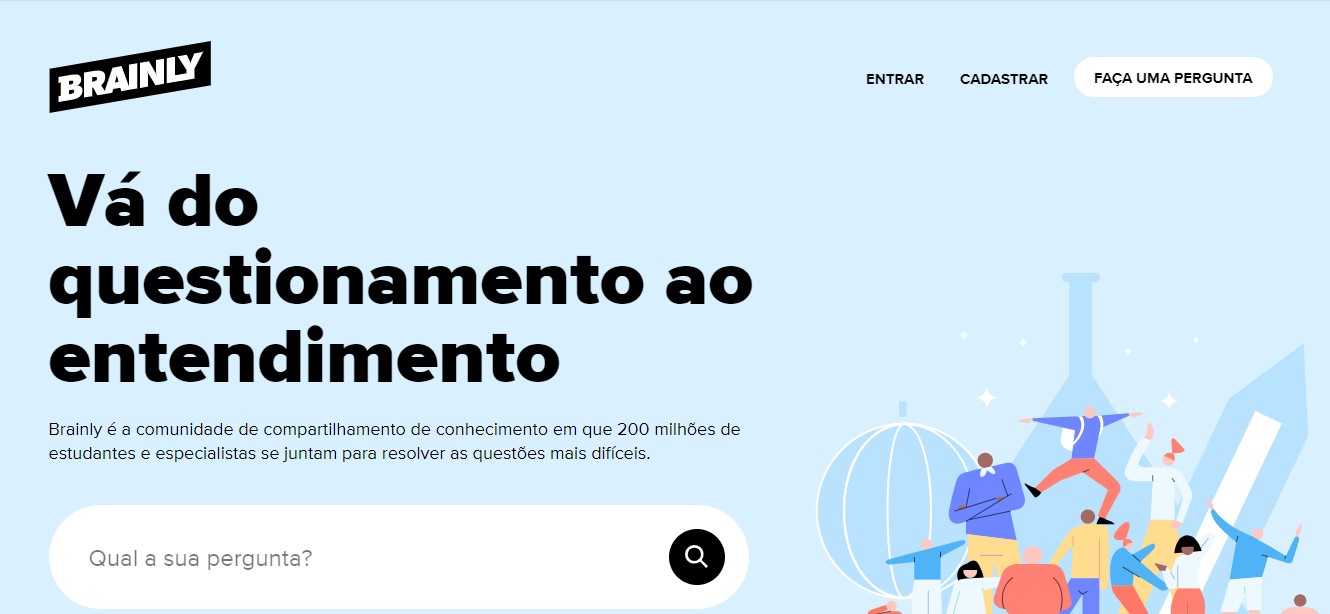 How to register to study at home using Brainly?
As mentioned earlier, Brainly is a collaborative platform that also functions as a social network. So, if you do not register, you can only browse the questions and answers already asked. However, you will not be able to register questions and answer other users' questions.
Therefore, to study at home using Brainly, the best option is, in fact, to have a profile on the site. Therefore, follow below a step by step how to make your registration!
First, access the official website of Brainly;
On the first screen, click on the "enter for free" option in the upper corner;
Soon after, choose how you will create your account, whether with Facebook, Apple ID or with email and password;
Then, just fill in your user profile and the account will be created.
From there, you can start to publish your questions and answer questions, studying at home and learning a lot!
And speaking of studying at home, get to know the best sites to buy textbooks and school books at a discount.
Tips for studying at home using Brainly
Now that you know how to study at home using Brainly, you need to know how to take full advantage of all the platform's advantages. Even because, with so much content available on the site, organizing your studies can be a very difficult task.
So, to help you in this planning, below we have separated some practical and quick tips. They will certainly make all the difference in your study performance. Follow!
Learn how to ask your own questions
In Brainly it's very common to find questions copied from ready exercises. In other words, the student receives the task of his teacher and glues it on the platform, waiting for a prompt response from the other users.
The fact is that when the solution to the question itself arrives, the user just copies the answer to the lesson, without really understanding the topic.
Therefore, to study at home using Brainly, the best way is to learn to reformulate your questions. In other words, receiving and rewriting them in a more simple and objective way, so that in addition to getting the answer, you also understand the content behind it.
Focus on content, not questions
As mentioned earlier, Brainly is a specific place for questions and answers. However, if your studies focus only on the issues, you will hardly be able to learn the subject as a whole.
So, the big tip here is to try to learn all the content by asking broad questions. With the answers, just apply your knowledge to the smaller questions, making learning much simpler, but in-depth.
Don't be afraid to explore the platform
Finally, it is worth remembering that Brainly is a platform that brings together in a single place varied content, from arts to mathematics. So don't be afraid to explore the platform a lot and navigate it.
Click on different questions, meet users and chat with them, ask questions and respond to comments. With Brainly, the learning possibilities are endless and can really transform your trajectory of studies at home.
Did you already know Brainly? Do you have an account on this social network, have you asked questions or answered questions on the platform? So tell us in the comments how was your experience!
Want to receive coupons first hand? Subscribe to our newsletter and enjoy!