Technological advances, the popularization of mobile devices and the democratization of internet access undeniably changed the habits of consumers.
Nowadays, through a cell phone, tablet or computer connected to the internet, it is possible to buy furniture, sightseeing tours and even take a distance course, such as those offered by Pitágoras Ampli, for example.
In fact, in the education sector, the changes were significant. According to a survey conducted by Abed (Brazilian Association of Distance Education), between 2017 and 2018, online education had a 17% growth in the number of enrollments. In 2019, distance learning in Brazil already had more than 9 million students.
In 2020, due to the COVID-19 pandemic, the teaching modality gained even more relevance. Even because it was the way found by most schools to ensure that their students continue to learn in full social isolation.
In this context, the National Education Council emphasized that even with the resumption of face-to-face classes, distance learning will be necessary, at least, until 2021, so that educational institutions are able to maintain the atypical teaching schedule because of the pandemic.
The fact is EAD education is here to stay and even after the pandemic it should continue to grow. However, it is necessary to choose a quality educational institution to enroll.
In this sense, count on Pitágoras Ampli to achieve your graduation without leaving home. Find out how in the following article.
But, after all, what is Pythagoras Ampli?
At first, Pitágoras Ampli is a brand belonging to the Pitágoras Foundation, an educational institution that has more than 20 years of history. In its portfolio of services, the company offers services from education for basic education to undergraduate courses.
For basic education, Pitágoras has more than 800 schools across Brazil, in addition to five units in Japan and one unit in Canada.
Altogether, more than 280 thousand students benefit from the Pitágoras education system, which in addition to basic education, also has undergraduate, bachelor's, technologist and graduate courses.
And, to further facilitate people's access to education, the company created a new brand, Pitágoras Ampli.
Through it, Brazilians have the opportunity to attend college through distance learning so that they can achieve their goals and dreams. And with a big advantage: without leaving home.
Advantages of distance education at Pitágoras Ampli
Undeniably the biggest advantage of taking an EAD degree is being able to attend classes wherever you are, within the time available.
In that sense, you can take advantage of that time in the lunch break to study, or else take classes early on the way home from work, using public transport.
However, it is worth mentioning that distance graduation offers many other advantages, when compared to on-campus faculties, namely:
Online and free registration and entrance exam
Undoubtedly, entering this type of teaching with Pitágoras Ampli is very easy. Even because you pay nothing to take the entrance exam and to make your registration after being approved.
And speaking of approval, the result of your selection process leaves within 24 working hours after the tests.
Fixed monthly fees
Another detail that draws attention is the tuition, which can cost up to 10x less than the tuition of on-campus colleges. In fact, in the case of Pitágoras Ampli, they remain fixed until the end of the course. They only undergo small adjustments, according to inflation and this, always in the next semester.
And the good news is that you can make these monthly fees even more attractive with the PegaDesconto promotional coupon. With it, you guarantee 10% OFF on all tuition when enrolling in the educational institution. Don't miss out!
Total flexibility
As we have already mentioned, with distance education you can attend classes wherever you are and at the time available.
This is possible thanks to the technology used in this type of education, which has videos and digital platforms that can be accessed through mobile devices, such as a computer, tablet or cell phone, for example.
That way, you don't miss any classes, whether you're at home, on the street or at work. In addition, it still has updated and free teaching materials, which can be consulted and / or downloaded whenever necessary.
Shorter time
In addition, it is worth mentioning that at Pitágoras Ampli you can graduate in less than 2 years, depending on the chosen course.
Even because when you take a distance learning course, you learn at your own pace, which means advancing the content or revising it as many times as necessary until it is assimilated.
However, this possibility does not mean that the student has fewer classes. Absolutely! In fact, the courses have the same workload as the face-to-face classes, but you are the one who determines the number of subjects to take in a semester.
In this sense, check below how long you can obtain your diploma from Pitágoras Ampli college:
Technologist: 1 and a half years;
Bachelor: up to 3 years;
Degree: 2 and a half years;
Technologist in Hospital Management: 2 and a half years.
Going to the polo every three months
In addition, in distance education at Pitágoras Ampli you only need to travel to your teaching center every three months. This is because in this modality, only the tests are in person.
Diploma recognized by MEC
Finally, know that when you graduate, your diploma will have the same value as a classroom course. In fact, Pitágoras Ampli's courses are recognized by the MEC, with the university guaranteeing the maximum grade with the institution.
Courses offered by Pitágoras Ampli
Regardless of your professional dream, know that in Pitágoras Ampli you find possibilities to carry it out in a practical and didactic way. Check out the courses offered by the educational institution below:
Technologist
Commercial management;
Human resource Management;
Financial management;
Public Management;
Logistics;
Marketing;
Digital marketing;
Management processes;
Hospital management.
bachelor degree
Administration;
Accounting Sciences.
Graduation
Both classes were developed by highly trained teachers in their area of ​​training and can be accessed in the student's virtual environment. That way, they can be watched both through the website and the app, and you even have the facility to download the content to watch whenever you want, without the need to be connected to the internet.
In the virtual environment of the student it is also possible to access all the information pertinent to the chosen course, such as the schedule of subjects, complementary activities and answer questions with the tutor. In addition, through this channel it is also possible to contact the secretary, issue slips and much more.
How to register with Pitágoras Ampli at a discount?
Graduating from a distance is, in fact, very simple. To do this, simply perform the following procedures:
First, select your city and choose from the 25 options available, the desired course;
Soon after, take the free and online entrance exam, making the test simplified. Or, use your ENEM note as a ticket;
After being approved in the selection process, make the enrollment. It is free, because in Pitágoras Ampli you pay only the tuition of the course;
Then, send the requested documents. For this, you can use your cell phone's own camera and send it through the website. Everything is fast and practical.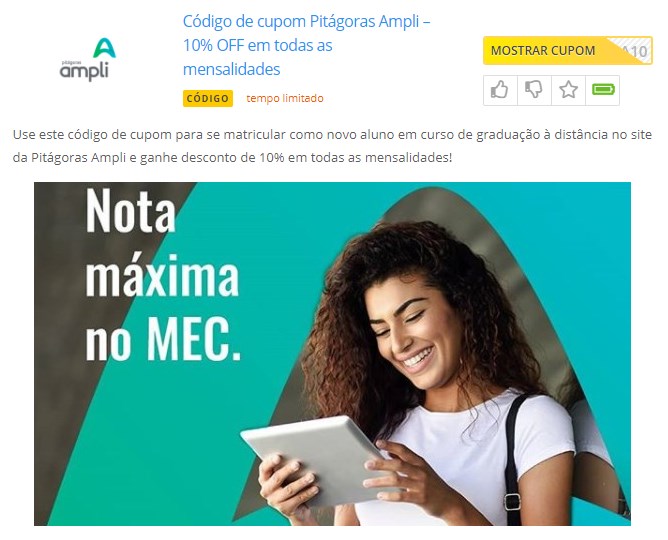 And so that you don't miss this excellent opportunity to give a real upgrade to your professional resume, take advantage of the exclusive promotional coupon from PegaDesconto. With it, you guarantee R $ 100 OFF on your first monthly payment and pay only R $ 49.99 to start studying at one of the best educational institutions in the country.

Is that you? Have you had any experience with EAD? So tell us in the comments or that you liked this teaching modality!
Want to receive coupons first hand? Subscribe to our newsletter and enjoy!