Have you ever imagined entering your favorite online store and finding several discounts for you to enjoy?
Thinking of you, Cuponeria launched an exclusive tool to show discount coupons and promotions available on thousands of sites. The tool features coupons from sites like Americanas, Netshoes, Centauro, Casas Bahia, Marisa and more.
Did you know that most sites have discounts, discount coupons and hidden offers? The product you want may have a compatible coupon, and sometimes finding it can be a difficult task. We solve this problem. Simply install this extension by clicking "Add to Chrome" and it will do all the work for you.
To install the extension just click here to download it.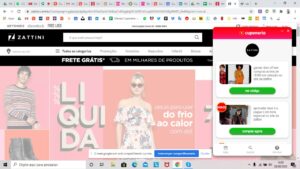 This Chrome extension will search for coupons and discounts available while you're browsing your favorite stores. This way you will save a lot! Better for you and your pocket.
Want to receive coupons first hand? Subscribe to our newsletter and enjoy!